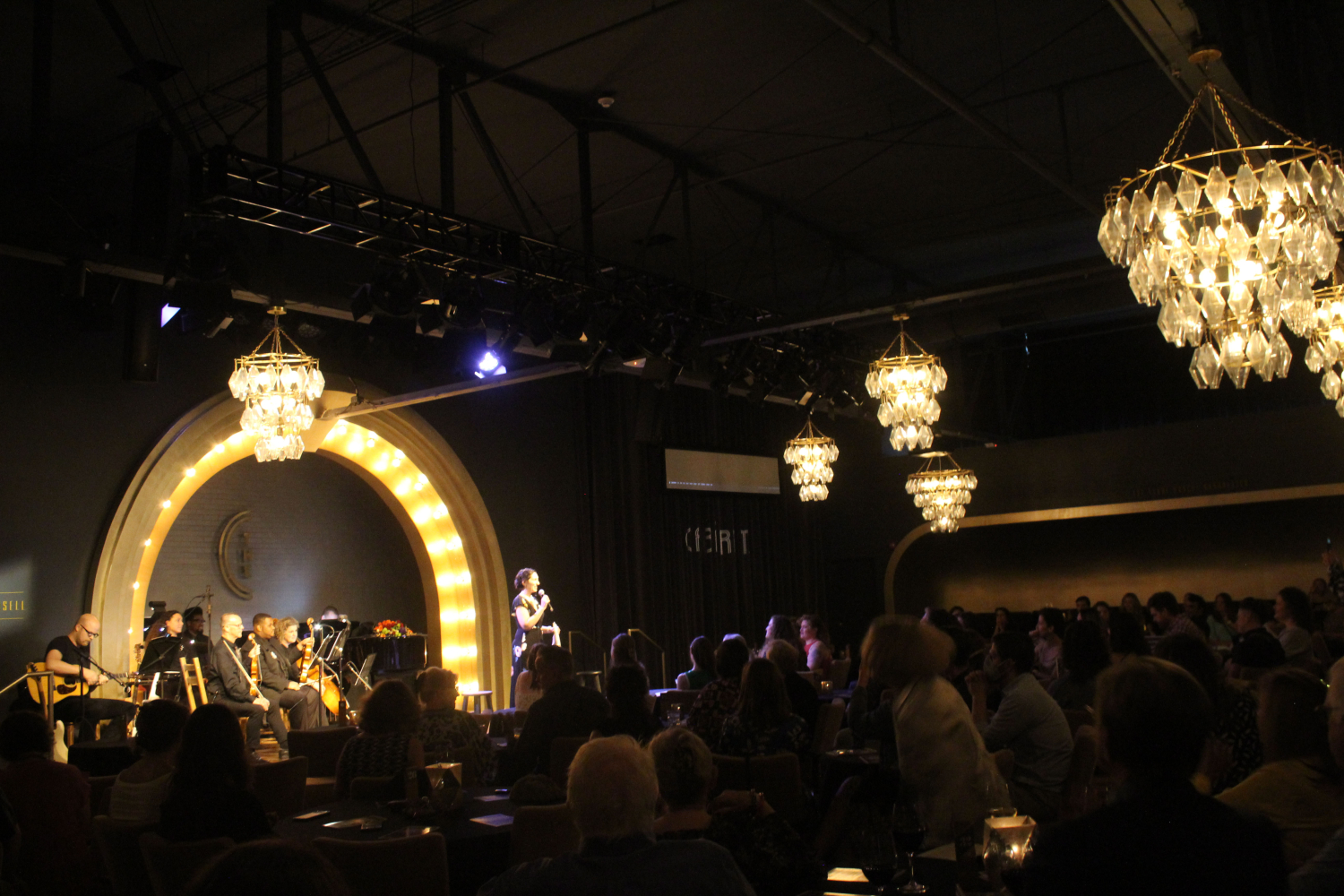 A week after Indiana passed a bill banning abortion almost entirely, several arts groups in Indianapolis joined forces Saturday to raise money to pay for abortion treatments.
Co-producer Carla Berg Raunick speaks to a packed house at The Cabaret before two performances of "Spring Awakening," the Tony Award-winning musical that premiered in 2007. and abortion.
"This is a long fight," Berg-Raunick said. "And we have to find moments of solidarity, moments of joy, moments of community. That's what art and theater are for."
Proceeds from the event will go to the Hoosier Abortion Fund operated by Bloomington-based All Options. The organization provides pregnancy, parenting, abortion and adoption support statewide and aims to support people in whatever they decide to do.
Berg Raunick, a female health nurse, and her husband, Michael Berg Raunick, said the idea for the event came after the US Supreme Court's ruling overturning Roe v. Wade.
Michael Berg-Raunick said, "I have some friends who are involved in politics and the legal system, and they're all talking about really specific things that they're thinking about how they can help in this situation. So it happened. I was listening to it and thinking: I really can't do those things, but what can I do? , to stage a musical."
The Cabaret and Phoenix Theater Cultural Center provided performance and rehearsal space. Berg Raunick and Berg Raunick asked friends and colleagues to build a list of creative teams and performers.
"Everyone we asked was very excited to do something," said Michael Berg-Raunick. "Every time I email, text, or speak to someone in person, it feels like they said, 'Yes, I definitely want to do that. No, you don't have to pay. I also want to help my wife and friends. "
Parker Dockray, executive director of All-Options, said the number of people seeking services surged after the Supreme Court ruling, with an average of 75 people now receiving assistance from the Hoosier Abortion Fund each week.
"We are spending a lot of money right now," says Dockray. "And we're getting a lot of donations. It's really heartwarming to see how people are stepping up and wanting to do something for their fellow Hoosiers to access abortion care." is."
Currently, one in three clients seeking abortion assistance is out of state, and most will be after Indiana's law goes into effect on September 15th.
"We will continue to help people after the new abortion ban goes into effect – whether it helps them understand the law, whether they qualify for one of the very narrow exemptions, Indiana. I don't know if it will help them figure out how to actually get abortion care in the state, but mostly it will help them.We need to figure out where they can get abortion care and travel, probably Illinois," Dockray said. says.
She also said the organization will eventually increase pregnancy support for those who cannot access abortion care.
As of Saturday night, the "Spring Awakening" fundraising event has raised nearly $60,000.
"I'm here tonight because something needed to be done after Congress passed SB1," said attendee Andrea Pachter. "This was the first thing that popped up on our radar screen.Like organizer Carla Berg Raunick, we believe art can heal."
Participating organizations include Indiana ACLU, Women4Change, Path4You, Indianapolis Hebrew Congregation, and Glick Charity.