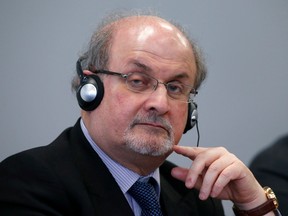 No religion should be allowed to expect its non-followers to follow its rules
Article content
It is despicable, but not surprising, that the Iranian government believes Salman Rushdie did it and seems very happy with the attempt on the author's life that happened last Friday. There is none.
Article content
Iran's Foreign Ministry spokesman Nasser Kanani said in a statement on Monday that he "does not consider anyone other than (Rushdie) and his supporters worthy of condemnation and condemnation."
The official continued, Rushdie said: "Insulted the sanctity of Islam and crossed the line of 1.5 billion Muslims, exposing himself to public outrage." This led to Iran's Ayatollah Khomeini issuing a fatwa in 1989 demanding Rushdie's death.
The British writer went into hiding for almost ten years before slowly returning to public life. There has been some debate as to whether the fatwa was technically expired, but the attack on Rushdie that left him permanently disfigured shows how religious zealots have long memories. The young man behind the attack was not alive when the Ayatollah issued the abomination decree, with social media footprints showing endorsement of Iranian extremism.
Article content
They want us to believe that Rushdie is the problem. he is not he never was. The problem has always been that some Muslims are so into novels that they don't even read them, rioting, bombing and murdering.
The answer is always simple. Don't like it, don't read it. Similarly, caricatures of Muhammad have also been responsible for attacks and murders. If your religion says you shouldn't draw or watch these caricatures, exercise restraint accordingly. But no religion should be allowed to expect non-believers to follow its rules.
The problem with saying we shouldn't insult people's religion is how low the barometer of aggression is, how often we are suddenly told we can't do harmless things, or take serious risks. I don't know what the result will be.
Article content
When the fatwas were first issued, more people took a firm stance than they do now. As The New York Times reported in his February 1989 report:Playwright Harold Pinter led a group of British writers to the residence of Prime Minister Margaret Thatcher to file a petition demanding action against the "unbearable barbaric situation". "
The Writers Association PEN held a Satanic Poetry Reading in Manhattan that included celebrities such as Joan Didion, Larry McMurtry and Don DeLillo.
Don't make fun of me because you're going to see the same reaction today.
Progressives used to be more open to the idea of ​​telling resentful Muslims to overcome themselves. There was a popular atheist moment in liberal circles. They had backed up TV and speaker circuits from the likes of Bill Maher and Penn Jillette.
Article content
One of the main messages from that era was that it was okay to criticize religion. They added that Islam was the one that needed the most contraction because it was a monotheistic religion that could hardly accept jokes.
We don't hear much of that kind of discussion these days. It doesn't just apply to religion or Islam. The list of issues that go uncriticized because of the risk of personal injury has expanded significantly over the past decade.
If society is going to allow people to be bullied for writing things that can upset the sensitive sensibilities of the transgender echo chamber, it is possible to rally behind someone who has upset a major figure in the Islamic world. Sex is almost zero.
It was not surprising that J.K. Rowling, who has been an outspoken advocate for transgender activism, faced online threats that she would become the next author after Rushdie was attacked.
Rushdie Fatwa was the original cancellation culture. The version progressives are now adopting in the West emboldens the issue of free speech within Islam.
afrey@postmedia.com